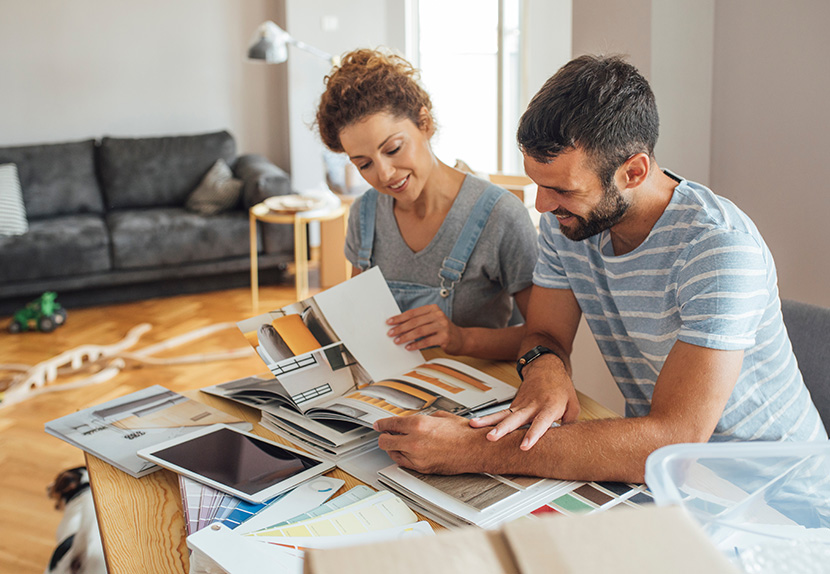 Make Your Home Work For You​
When you're planning a home remodel, a Home Equity Line of Credit (HELOC) or Home Equity Loan is a great choice. Use your home's equity— the difference between what you owe on your current mortgage loan and the home's current market value —to borrow for multiple purposes including:
Home improvements
Home repair projects
Education expenses
Medical expenses
Bill consolidation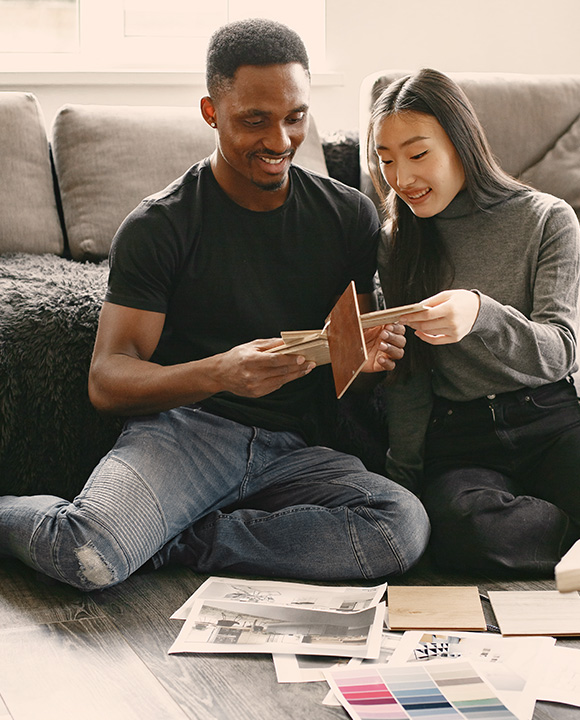 HELOC vs. Home Equity Loan
Choose a HELOC as a flexible source to finance home repairs and upgrades. This is a line of credit that allows you the ability to draw money whenever you need and comes with a variable interest rate. You only pay interest on the amount you draw.
Choose a Home Equity Loan for home repairs and much more. This option gives you a lump sum of cash which is repaid over a fixed period with a fixed interest rate and fixed monthly payments over the life of the loan.
Apply Now
The Versatility of a HELOC
Go ahead, renovate your kitchen, remodel a bathroom or turn your extra garage space into a home office. Whatever you're looking to do, one of the best ways to improve your home is a home equity line of credit. With a home equity line of credit, you can borrow against your home's value to fund any number of improvement projects all at a low interest rate.
Looking to lock in a portion of your HELOC balance? Contact Us for more information.
Benefits of a HELOC

Receive lower rates and no annual fees. A HELOC is great for shifting project plans and drawing money only when needed. This line of credit comes with a 10 year draw period. During the draw period, you will only be required to pay the interest portion. Use your draw period to plan out home improvement projects or pay expense as they arise.

Lock in your rate

Lock in a part of your borrowed balance to a fixed rate and term. This provides peace of mind knowing that balance will be paid off within a specific period, while still having the flexibility to draw on available credit as needed.

Four ways to access your HELOC

There are multiple ways to access your HELOC loan for home improvement or paying other expenses. Simply write a check, use a Digital Banking transfer, utilize our phone banking system or chat with an associate at any of our branches. You can easily transfer funds to a Landmark savings, checking or money market account.
Term

Term

Current Rate

APR18

7.50%
Apply For a HELOC
The rate listed above applies to HELOCs with up to an 70% loan-to-value (LTV) ratio. For rates and further details on loans with LTV ratios ranging from 80% to 100%, or if you have any questions about our rates, please contact us.
Home Equity Loan
Home equity loans will give you a lump sum of cash which is repaid over a fixed period with a fixed interest rate. With a low fixed interest rate1 and fixed monthly payments over the life of the loan this is a great choice for individuals planning out a specific home project. Landmark makes it easy to apply with a personal finance officer and offers terms that can fit your budget ranging from 5-20 years. If you find that you need additional funding a HELOC may be a better choice.
Benefits of a home equity loan

Receive lower rates and no annual fees. A home equity loan, sometimes referred to as a renovation loan, is great when you know exactly how much cash you will need for your projects and prefer consistent payment options.

Consider a home equity loan to:

If you need help consolidating high-interest debts, want to pay off medical or education expenses or have a budgeted home improvement project, choose the term that best suits your needs and utilize a home equity loan.
Term

Pmt/$1,00019

Term

Up to 60 months

APR23

7.39%

Pmt/$1,00019

$19.99

Term

84

APR23

7.94%

Pmt/$1,00019

$15.56

Term

120

APR23

8.39%

Pmt/$1,00019

$12.34

Term

180

APR23

8.74%

Pmt/$1,00019

$9.99

Term

240

APR23

9.85%

Pmt/$1,00019

$9.56
Apply for Home Equity Loan
We offer rates for up to 80% LTV and separate rates for 90%-100% LTV Home Equity Loans. For rates and more information on this product please contact us.
HELOC and Home Equity Loan FAQs
HELOCs operate on a monthly billing cycle, similar to a credit card. The minimum payment is calculated at the beginning of each cycle, and that payment is due before the next cycle begins.

For example, let's say your due date is the first of the month, and we are in the month of March. The payment amount is calculated at the end of the business day on March 1, and that payment must be paid in full before the end of business day on April 1. At the end of the day on April 1, a new payment amount is calculated and that payment must be paid in full before the end of business day on May 1, and so on.

If a payment is not made on time, any unpaid amounts from the previous cycle are added to the current cycle's minimum payment amount. There are multiple ways to find out your payment amount and due date. You will receive a billing notice every month stating the minimum payment amount and when it is due. This will be mailed to you unless you are enrolled in eDocuments. The amount due and next due date can also be verified by viewing your account online through

Digital Banking

or by

contacting us

.

You may request an increase to your

HELOC

in one of the following ways:

When applying for a

home equity loan

, please provide the following:

Proof of income (pay stubs for the last 30 days, 2 years W2 or 1040s)
Proof of Homeowner's Insurance (policy declaration page)
If you have a first mortgage, your most recent statement
A copy of your tax bill Additional information may be required.

A home equity loan and a HELOC offer different ways to access funds using the equity in your home:

Home Equity Loan:

Provides a lump sum amount upfront.
Repaid over a fixed term with equal monthly payments.
Fixed interest rate for the loan duration.

HELOC

:

Offers a line of credit for a set time frame, often up to 10 years (draw period).
Operates like a credit card, allowing you to borrow as needed during the draw period.
Repayment period follows the draw period. This can last up to 15 years.
As you repay the principal, your credit becomes available again.
Variable interest rate tied to The Wall Street Journal Prime Rate.
Payments will vary depending on the interest rate and how much credit is used.

HELOCs provide flexibility and the ability to access funds when needed, while home equity loans offer a fixed lump sum with consistent monthly payments. The choice depends on your financial goals and preferences.
18 - Current Rate available on loans for owner-occupied primary residences with loans up to 70% Loan-to-Value (LTV) and credit scores of 740 or higher. Other restrictions may apply. Annual Percentage Rate (APR) is variable and set at Prime (recently 8.50%) minus 1.00 percentage points, or 3.99% APR, whichever is higher. Rate is subject to change on the first business day following any change in the Prime Rate as published in the Wall Street Journal. Interest-only payments are available for the first 10 years from the date the HELOC was opened; outstanding balance will then amortize based on the variable rate to be repaid in monthly payments over 180 months. Maximum rate 20% and the APR will never fall below 3.99%. Homeowner's insurance required. If the line of credit is closed within the first 2 years, an early termination fee of $250 applies. The member is responsible for the property valuation, property condition report, title letter report, and recording fee of $149 - $1,000 depending on the number of units, occupancy status, and the amount of the credit line requested. Additional loan programs may be available based on creditworthiness.
19 - Payment factor does not include Credit Protection coverage. Credit Protection coverage is not offered on real estate secured loans.
23 - Fixed rates shown are available for owner-occupied primary residences with loans up to 80% Loan-to-Value (LTV) and credit scores of 680 or higher. Additional rates and terms are available. Applicants with credit scores under 680 may still be eligible for a fixed rate loan with LTV to up to 80%. Minimum loan amounts apply. Consumer loan rates based upon qualified credit. Loans and rates are subject to credit approval. All rates and terms are subject to change without notice. Excludes Landmark refinances.